What to look out for in a yoga mat
Do you practice gentle Hatha or Yin Yoga, flowing Vinyasa, dynamic Ashtanga or even sweaty Bikram or Hot Yoga?
Finding your ideal yoga mat can pose a bit of a challenge. Whatever journey you are about to embark on as you set foot on your mat, your focus should be on how your body and mind assimilate the many benefits of yoga, not on worrying about the reliability of your equipment. This list of features will help you make the right choice with regards to the perfect mat.
Generally speaking, the choice of your mat depends on the nature of your practice. The more strenuous or dynamic your practice, the more sturdy your mat needs to be. If your practice is more gentle, you might want a softer texture. Keep in mind that there's no one-size-fits-all formula behind the perfect mat. What might work for you, might not be as effective for someone else.
Also, researching your options before purchasing your mat, is good for the environment. Reducing unnecessary consumption is as much a part of what we stand for, as our choice of materials and production. Kurma is about making sensible choices across the board. We want to reduce our impact on the environment to a minimum. So please enjoy the overview we put together for you as it is meant to simplify your search. And don't be afraid to contact us for more information.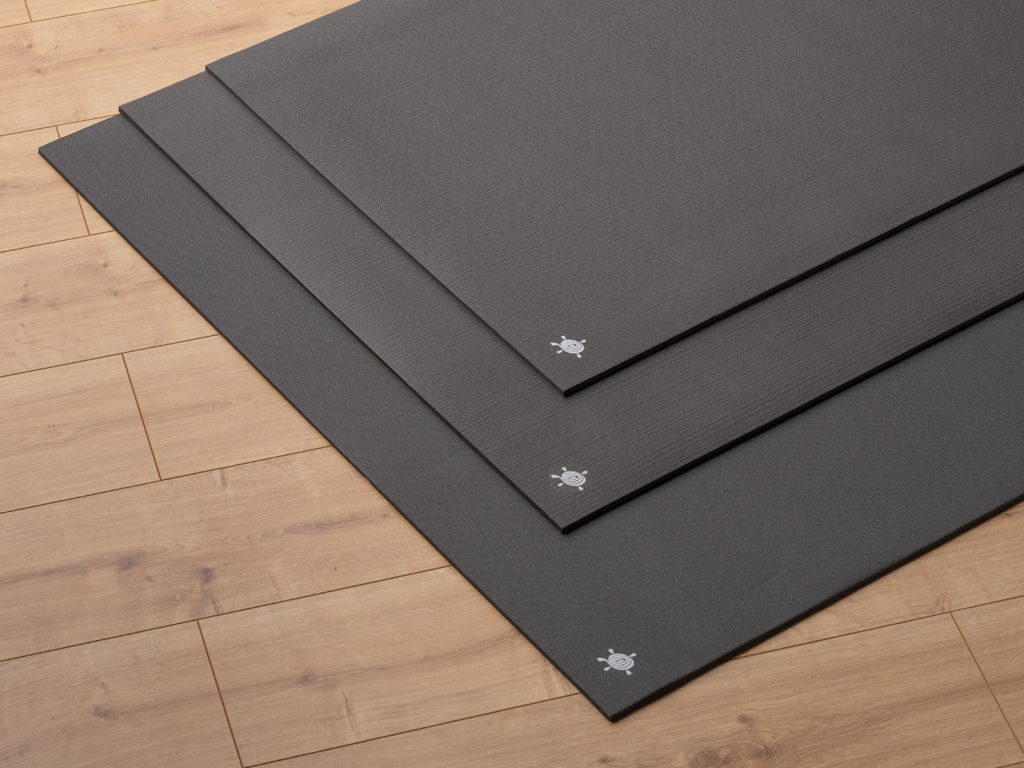 YOGA MAT SIZE
The ideal length for your yoga mat is your length plus 5cm above your head and under your feet. Kurma's standard Classic mats measure 185cm in length and 61cm in width. Our CORE and GECO Series are 66cm wide. If you are taller than 175cm, we suggest you look into our longer mats that measure 200cm. The extra wide versions in the CORE Black Series, such as the CORE Black 100 cm, are particularly suited for people with broad shoulders and/or a preference for more practice space.
CUSHIONING
Optimal cushioning depends on several factors such as comfort, the type of floor you practice on and portability of the mat. If you have joint problems or if you simply value greater comfort, we recommend a thicker mat (6 – 6.5mm). PVC and rubber mats have more cushioning which makes them heavier. If portability is important to you, then our 3 to 4mm mats are the way to go. If your practice is primarily home-based, we suggest a 6 – 6.5 mm mat. And if you have painful joints or knee problems then you can add a bolster or a round cushion and a blanket for extra cushioning and comfort.
MATERIAL
The material of your yoga mat also contributes to your overall experience, so this is where the different surface textures of our mats come in. Open-cell surfaces, inherent to natural rubber and PU mats, provide the best slip resistance. This is an essential criterium for most yogis. If you are a dynamic practitioner, seriously into Ashtanga or Vinyasa, excessive grip can encumber the flow of your practice. The more grip, the more you might feel restricted. Too much grip could also wear down your mat in a relatively short time. Choosing a mat with closed-cell surface (like our PVC mats) would be a smart thing to do.
Nowadays yoga mats are available in PVC (short for polyvinylchloride), natural & synthetic rubber, TPE (thermoplastic elastomers), PU (polyurethane), cork, wool and in combinations like PU/rubber or cork/rubber. Each of these materials has advantages and disadvantages. For instance, rubber yoga mats will oxidize over time and require more cleaning, whereas PVC yoga mats have closed cell surfaces and are very durable. As long as you don't sweat (excessively), you will have a good grip on a PVC mat.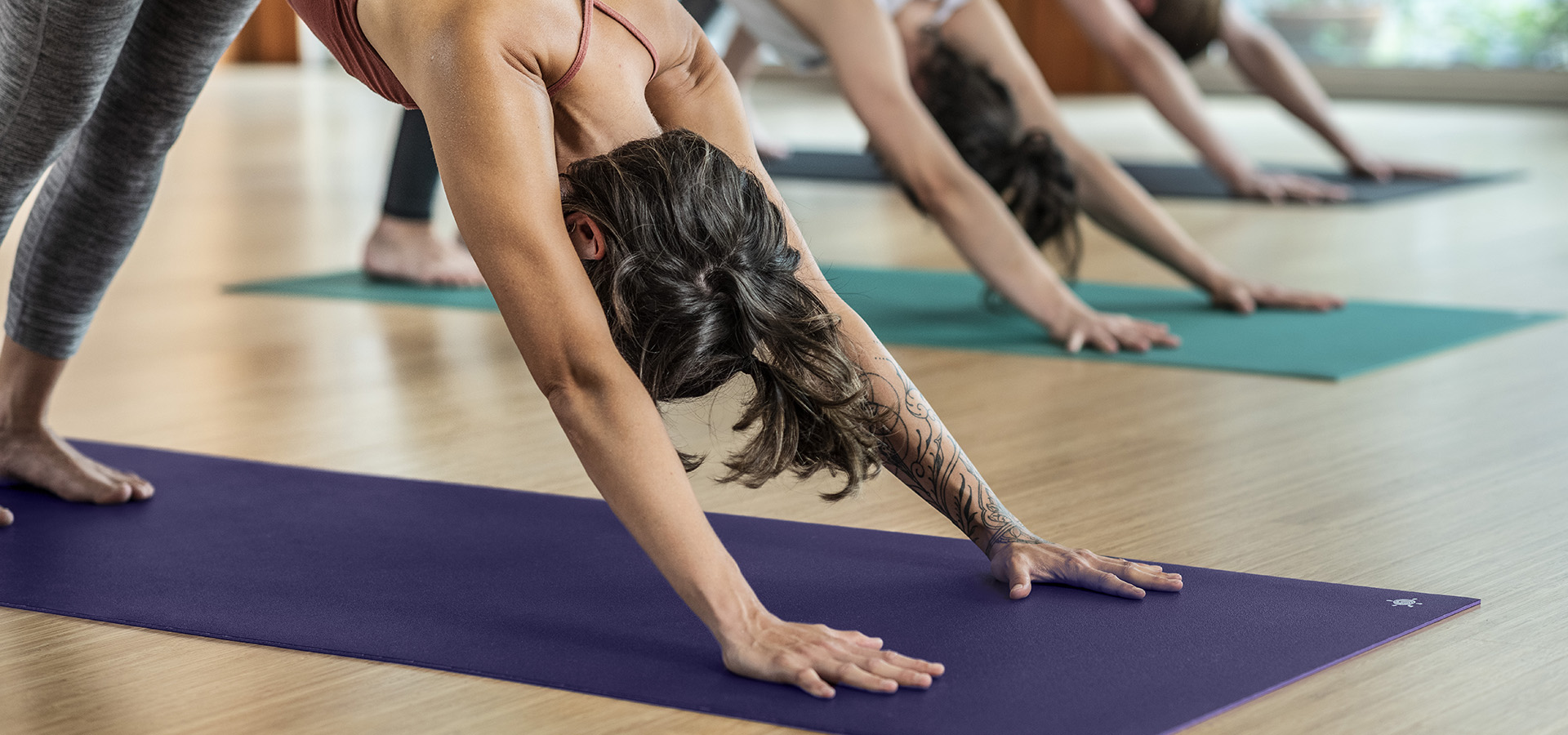 SLIPPAGE
Ultimately, slip resistance is the most individual criterion when buying a yoga mat. Also, feeling as if you're slipping is very subjective. All human beings are unique and what our bodies experience one day, might be very different to what we might feel the next. Therefore, the way we attach to our mats is never the same. Slight changes in body temperature and transpiration might also affect your daily experience. Aside from what your practice looks like, and how you choose to position your hands and feet, there is also a difference in sweat formation on your hands and feet. All of this has an impact on the level of slipperiness of your mat.
PVC or Rubber or PU mats?
PVC mats provide a good dry grip during a yoga practice with dry hands and feet. All PVC mats have closed-cell surfaces and don't absorb moisture. During a sweaty or hot yoga practice the moisture will remain on the surface. For your own safety we recommend that you use a yoga towel to absorb this moisture.
Rubber and PU mats have a maximum dry grip because of their open cell top surface texture. We understand how slip resistance might be a decisive factor for you, but your practice should really determine the level of desired grip. Too much grip might restrict your flow, for example as you jump 'through' or 'back' in Ashtanga. The more grip, the harder it is for you to step or jump towards the front, or the back, of your mat. During a sweaty or hot yoga practice the rubber and PU mats will absorb a reasonable amount of moisture. Sweat will descend from the top surface into the core of the mat. Thoroughly cleaning your mat from time to time is required to remove any residual sweat and bacteria built up in the mat.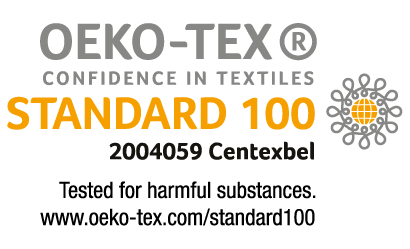 OEKO-TEX® CERTIFICATION
All Kurma mats are certified according to Standard 100 by OEKO-TEX®, Product class I (articles for babies and toddlers). The Standard 100 by OEKO-TEX® list of criteria contains around 100 annually updated test parameters for harmful substances, including AZO, DOP, phthalates, Bisphenol-A (BPA), lead and dioxins (see full list here)
We are well aware of the fact that products underlying strict certification procedures come with a certain price tag not everybody is comfortable with. At the same time, we are convinced that this is the only way to guarantee the absolute safety of our mats both during usage and at the end of their life cycle. We also think you're better off buying a reliable mat that meets your needs with regards to the frequency and intensity of your practice, as opposed to a cheaper version that might at some point let you down.
SUSTAINABILITY
The yoga industry and its many millions of customers are co-responsible for for massive amounts of solid waste in general, and plastic waste in particular. Even though there is hardly any data to quantify the exact yoga-related waste worldwide, one thing is for sure: with an estimated 300 million yoga practitioners, millions of mats and props are disposed of each year. They are usually burned in an incinerator, landfilled or, worse, illegally dumped.
We are not on the same page as many other rubber, TPE and PU yoga mat brands. At Kurma, we are not convinced that biodegradability will effectively work in a landfill. So we made the choice for industrial recycling. This allows us to fully control both the process and the desired output. That's why all Kurma mats are 100% recyclable.
To help reduce the vast environmental impact of yoga, Kurma initiated the ContinuOM Collective in the beginning of 2020. This is a non-profit organisation dedicated to finding sustainable solutions for the hard-to-recycle waste stream produced by the yoga industry (and its customers). To implement these solutions, we launched the Second Flow initiative which focuses on the collection of used yoga mats, the donation of too-good-to-go mats to worthy causes, and the recycling of yoga mats and production waste into new [yoga] products.