Blocks
Natural cork or EVA foam, classic brick or oval egg? Our sustainably made yoga blocks come in different materials, shapes and colours, to support you in daily yoga practice.
Recycle your yoga block
Kurma aims to reduce the vast environmental impact of the yoga industry. With every Kurma product, we design out waste and keep the materials in use thanks to industrial recycling. All Kurma mats can be recycled through Second Flow initiative from ContinuOM Collective.
Help us recycle yoga blocks either through ContinuOM Collective or your municipal textile containers.
Recycle here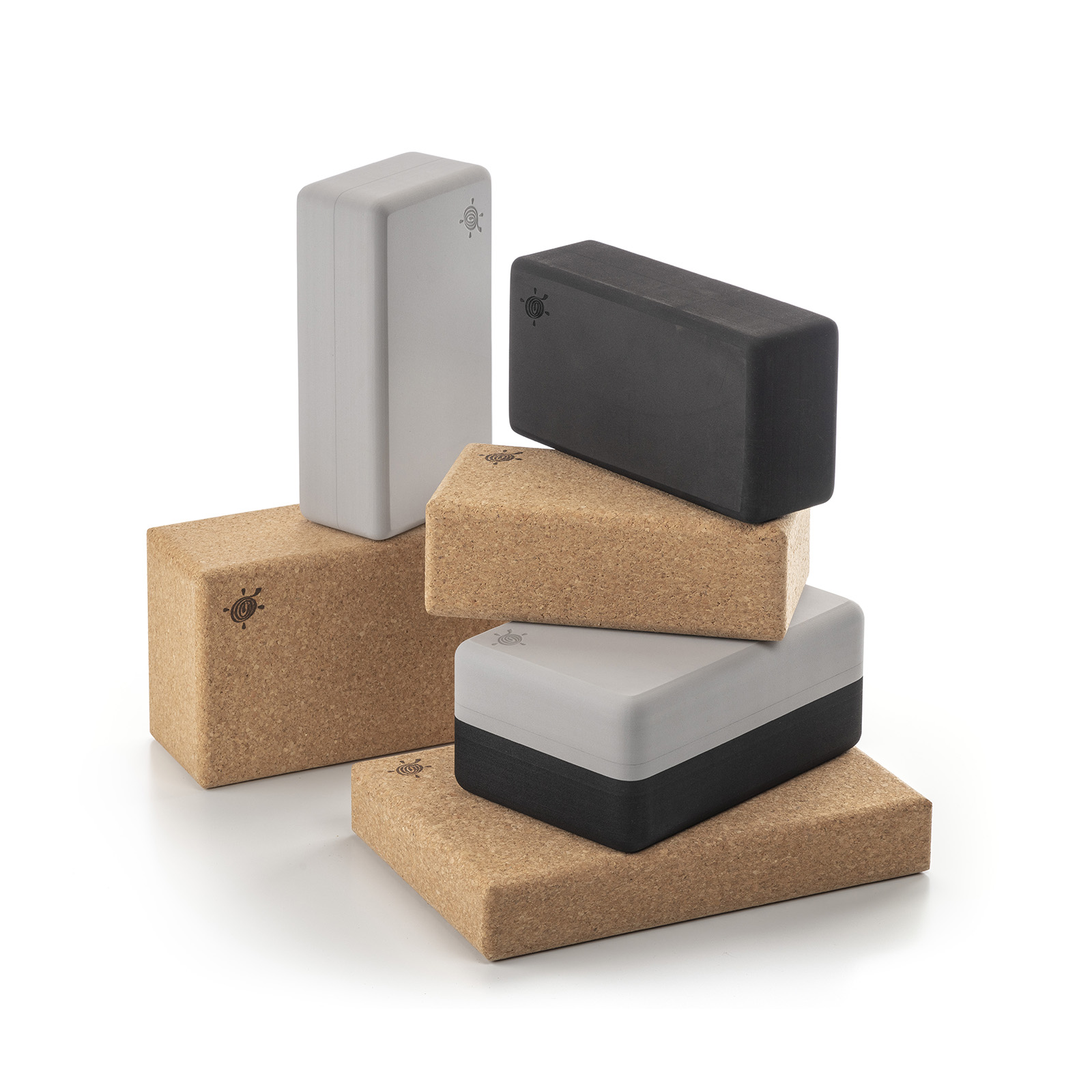 How to use a yoga block?
A yoga block has several functions. A yoga block:
Provides support when performing yoga exercises
Makes yoga poses more accessible or
Makes yoga exercises more challenging
Not every exercise is feasible for everyone. If you find it difficult to assume a certain position, a block can make the pose easier. For example, with a block you can bring the ground closer to you and make the movements easier. You can also use a yoga block as support for your back, neck, head or legs. You place the block under a body part so that your muscles and joints get extra support. In addition, you can also use a yoga block to increase the weight of your exercises. This makes a yoga block also suitable for the experienced yogi who is looking for more challenge.
Which yoga block is right for me?
When choosing a yoga block, it is useful to consider the following characteristics.
Material yoga block
In the Kurma collection you will find yoga blocks made of cork and foam. Yoga blocks of EVA foam are lightweight and soft. This makes them easy to take with you. Also, when using this block there is less pressure on your joints and the product feels comfortable. The cork yoga blocks are somewhat harder and heavier. Therefore, these blocks offer more stability and sturdiness than the foam blocks.
Shape and size of yoga blocks
Yoga blocks are available in different shapes and sizes. The standard blocks have a rectangular shape. The blocks are available in different sizes. The larger blocks offer more support. The smaller blocks are suitable if you are more flexible and have more experience with yoga.Then there are the oval shaped yoga blocks. The oval shape fits better to the contours of your body, making it easier to use and more comfortable. The blocks can be used for lying down exercises where you place the block under your back for more support.
Choose a yoga block from Kurma
In the Kurma range, you will find high-quality and durable yoga blocks. The blocks are
100% recyclable and
Free of toxins.
Order your yoga block now and it will be sent within a day! From an order value of 65,- your order will be delivered for free.Meditatiekussens