Yoga Mats
Looking for your ideal yoga mat? One that fully meets your needs in terms of functionality, durability, comfort and quality? Within the Kurma assortment, you are guaranteed to find a yoga mat to suit you. The mats are sustainably produced, free of toxins, 100% recyclable and long lasting. A conscious choice for every yogi and yogini! Have you found your perfect yoga mat? Then it will be shipped within 1 day! Take a look at our assortment and find your perfect mat!
Showing 16–30 of 40 results
Sustainable yoga mats
Kurma aims to reduce the vast environmental impact of the yoga industry. With every Kurma product, we design out waste and keep the materials in use thanks to industrial recycling. All Kurma mats can be recycled through Second Flow initiative from ContinuOM Collective.
Recycle your old yoga mat
Initiated by Kurma, ContinuOM Collective is a non-profit organisation dedicated to finding sustainable solutions for hard-to-recycle waste streams generated by the yoga industry and its consumers. Currently ContinuOM has set up operational recycling for PVC mats, rubber mats and TPE mats.
Recycle here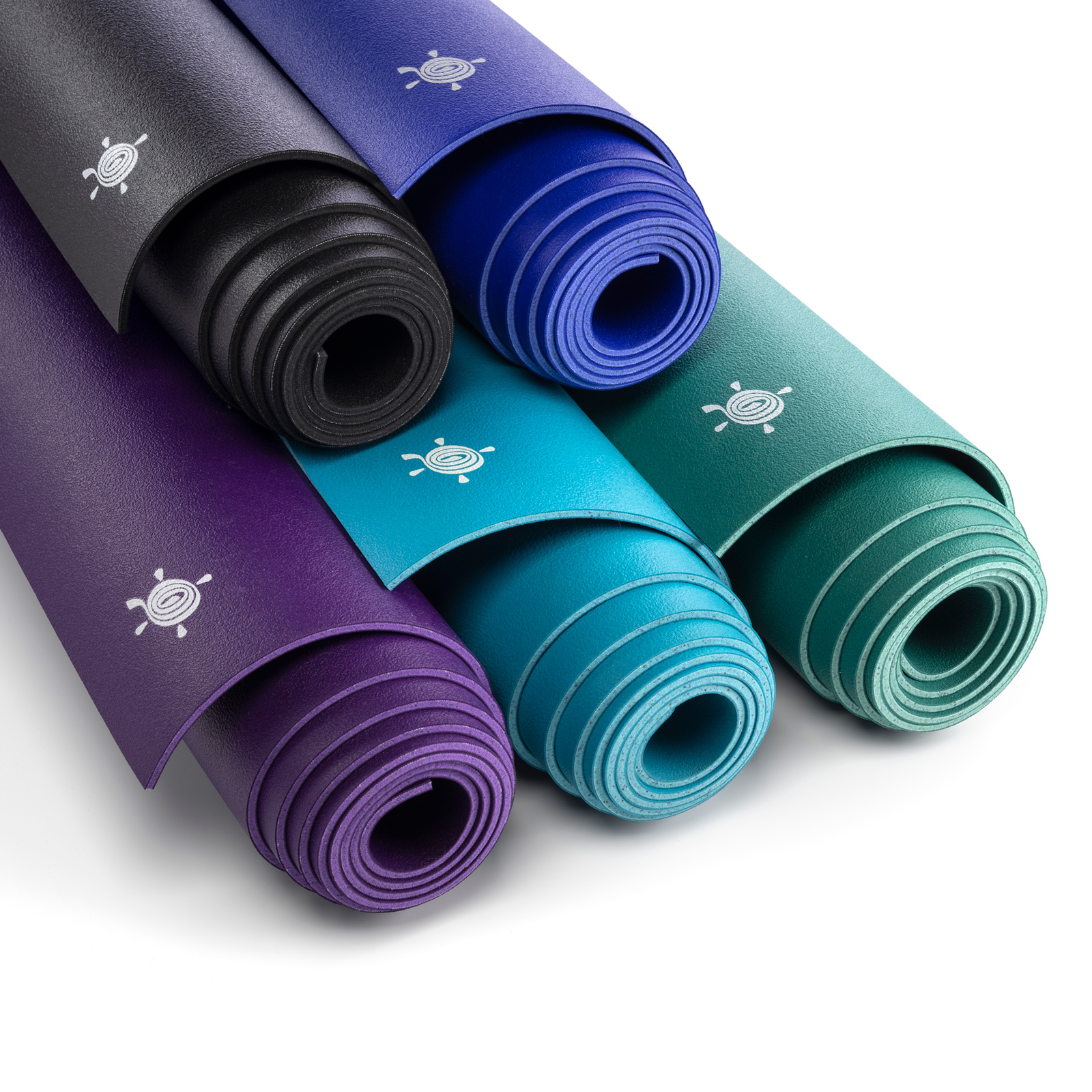 Buying a yoga mat, what should you look for?
Finding the perfect yoga mat is a challenge. The right choice depends on the style of yoga that you practice. In the more active forms of yoga, you may need a mat that offers a lot of grip, while in the gentle forms you may want more comfort. The degree of comfort and grip is determined by the material and thickness of the mat. Read more about this below.
Durability yoga mat
In addition, durability can be an important factor to consider in your choice. Cheap mats are often of poor quality and are produced with toxic substances. Therefore, many yogis choose a sustainable and environmentally friendly variant. Kurma mats are therefore a good choice.
The Kurma yoga mats:
Are free of toxins and harmful substances,
100% recyclable,
Have a low CO2 footprint,
Are long-lasting.
A perfect choice if you go for quality and durability!
Which yoga mat material should I choose?
When choosing a yoga mat, it is important to consider the material.
PVC yoga mat
PVC mats are known for having a good dry grip. They therefore offer a lot of stability so that you can safely do the exercises without slipping. In addition, the material is resistant to wear and thus the yoga mat will last a long time. A PVC mat can become slippery when wet. The mat is therefore less suitable when you practice yoga styles that involve a lot of sweat, such as Ashtanga, Hot yoga or Bikram yoga.
Rubber yoga mat
A rubber mat has both very good dry grip and wet grip. The rubber is able to absorb a reasonable amount of moisture so that the mat does not become slippery and you remain stable.
What size should the yoga mat be?
It is also important to look at the size of the yoga mat. Below are some guidelines:
Length: The perfect size for a yoga mat depends on your own height. It is important that the mat is at least 10 cm longer than your own height.
Width: If you are somewhat slender, a standard mat of 60 cm wide is fine. For people with broad shoulders or who want more space on the mat, a wide mat, such as a CORE Black series yoga mat, is a good choice.
Thickness: The thickness largely determines the comfort, balance and stability of the mat. Would you like a mat with cushioning that offers a lot of comfort? Then a thicker mat of 6 – 6.5 mm is a good choice. Looking for lightweight and stability? Then choose a thinner mat of approx. 3-4 mm.
Choose a Kurma yoga mat
Whatever you're looking for, you're sure to find a yoga mat to suit you in Kurma's range. Order your mat today! It will be shipped within one day. If you spend more than € 65, your order will be delivered for free.