How to compare Kurma Yoga mats
Finding your ideal yoga mat can be a bit of a challenge. The Kurma yoga mats are like yoga poses; they vary in types and usage. So how to compare Kurma Yoga mats?
In the following table we graded our Kurma mats against the five most important performance criteria commonly used in the yoga industry.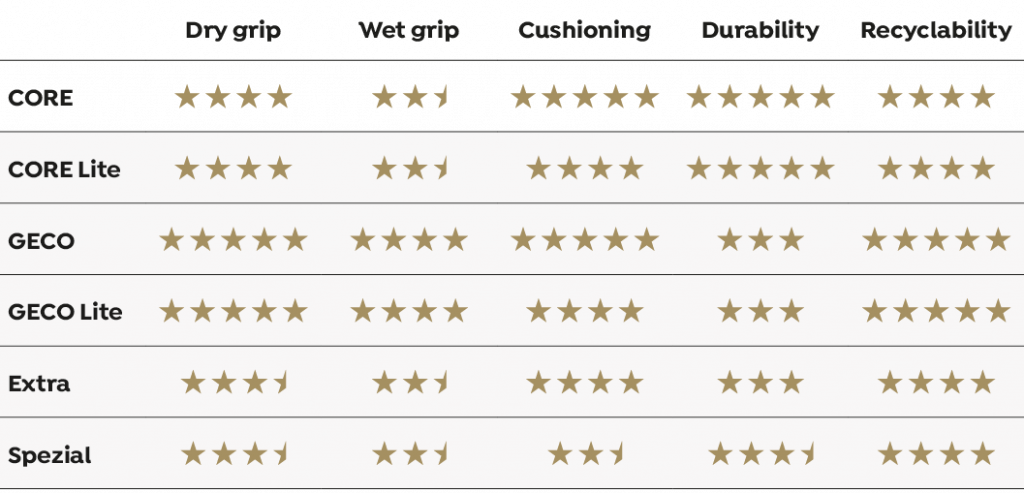 DRY GRIP
Dry grip means non-slip during a yoga practice with dry hands and feet.
The CORE, CORE Lite, EXTRA and SPEZIAL PVC mats provide superior, consistent grip throughout the mat's lifespan. It's essential to remove any sweat, natural oils, lotions or hand creams before your practice on a PVC mat, because this will result in slippage. Please wash your hands with soap and water before your practice.
The GECO and GECO Lite rubber mats have a maximum dry grip thanks to the semi-open cell rubber top layers. Whilst high slip resistance could be a decisive factor when comparing Kurma yoga mats, your yoga practice should really determine the level of desired grip. Too much grip might restrict your flow, for example as you jump 'through' or 'back' in Ashtanga. The more grip, the more resistance you might encounter during a flowing exercise.
WET GRIP
'Wet grip' refers to slip resistance during a sweaty practice at normal room temperature or in a hot yoga room.
Our CORE, CORE Lite, EXTRA and SPEZIAL PVC mats have closed-cell surfaces, which means they don't absorb moisture. Moisture will remain on the surface during a sweaty or hot yoga practice. Bacterial build-up will not occur inside the mat. For your own safety we recommend that you use a yoga towel to absorb this moisture when practicing on a PVC mat.
With our GECO Series rubber yoga mats sweat and moisture will descend from the top surface into the core of the mat. Thoroughly cleaning your mat from time to time is required to remove any residual sweat and bacteria built up in the mat.
DURABILITY
As a first rule when you compare Kurma Yoga mats: the more dynamic your practice is, the sturdier your mat needs to be.
In case you are a dynamic practitioner, who practises Ashtanga or Vinyasa yoga, your choice of mat can be a trade-off between durability and grip. For example if your practise requires you to frequently 'jump through' or 'jump back' as you do in Ashtanga Yoga. Or to step your feet between your hands and arms regularly during sun salutations. During flowing exercises too much grip might restrict your flow and may also wear down your mat in a relatively short time. In this case choosing a mat with closed-cell surface (like our PVC mats) would be a smart thing to do.
The CORE and CORE Lite PVC mats are extremely durable and have a very long lifespan. The EXTRA and SPEZIAL PVC mats have a good durability against abrasion. Our GECO and GECO Lite rubber mats have a shorter lifespan due to latex's intrinsic properties and exposure to sunlight.
CUSHIONING
Optimal cushioning depends on several factors such as comfort, the type of floor you practice on and portability of the mat. If you have joint problems or simply value greater comfort, we recommend a thicker mat (6 – 6.5mm).
Due to the material properties, PVC and rubber mats are heavier than TPE mats. If portability is important to you, then 3 to 4.5 mm mats are the way to go. Is your practice primarily home-based, we suggest a 6 – 6.5 mm mat. If you have painful joints or knee problems, you can use bolsters and blankets for extra cushioning and comfort.
Our thicker CORE and GECO mats will provide the best cushioning of all Kurma mats.
RECYCLABILITY
All Kurma mats are OEKO-TEX® STANDARD 100 (Product Class I) certified, which is the highest global health safety standard currently. Thanks to this OEKO-TEX® certification we can fully recycle all Kurma mats when they have reached the end of their lifecycle.
Our CORE, CORE Lite, EXTRA and SPEZIAL PVC mats can be 100% recycled into new industrial products. Currently there's no technology to grind the PVC material into very fine particles that can be reused in yoga mat production. As soon as the new recycling technology becomes available, we will be among the first to acquire it.
The GECO and GECO Lite can be 100% recycled into new yoga mats and are already produced with recycled material. For example 40% of the GECO Lite's foam core is made from recycled rubber particles.
You can recycle your old yoga mat through the Continuom Collective.